Better Skincare for All
Skincare doesn't have to be complicated. At Infinity Soap Company, we work hard to #RaiseTheBar on skincare. We go back to the basics to find what works, pair it with scents you'll love, in products that will love your skin.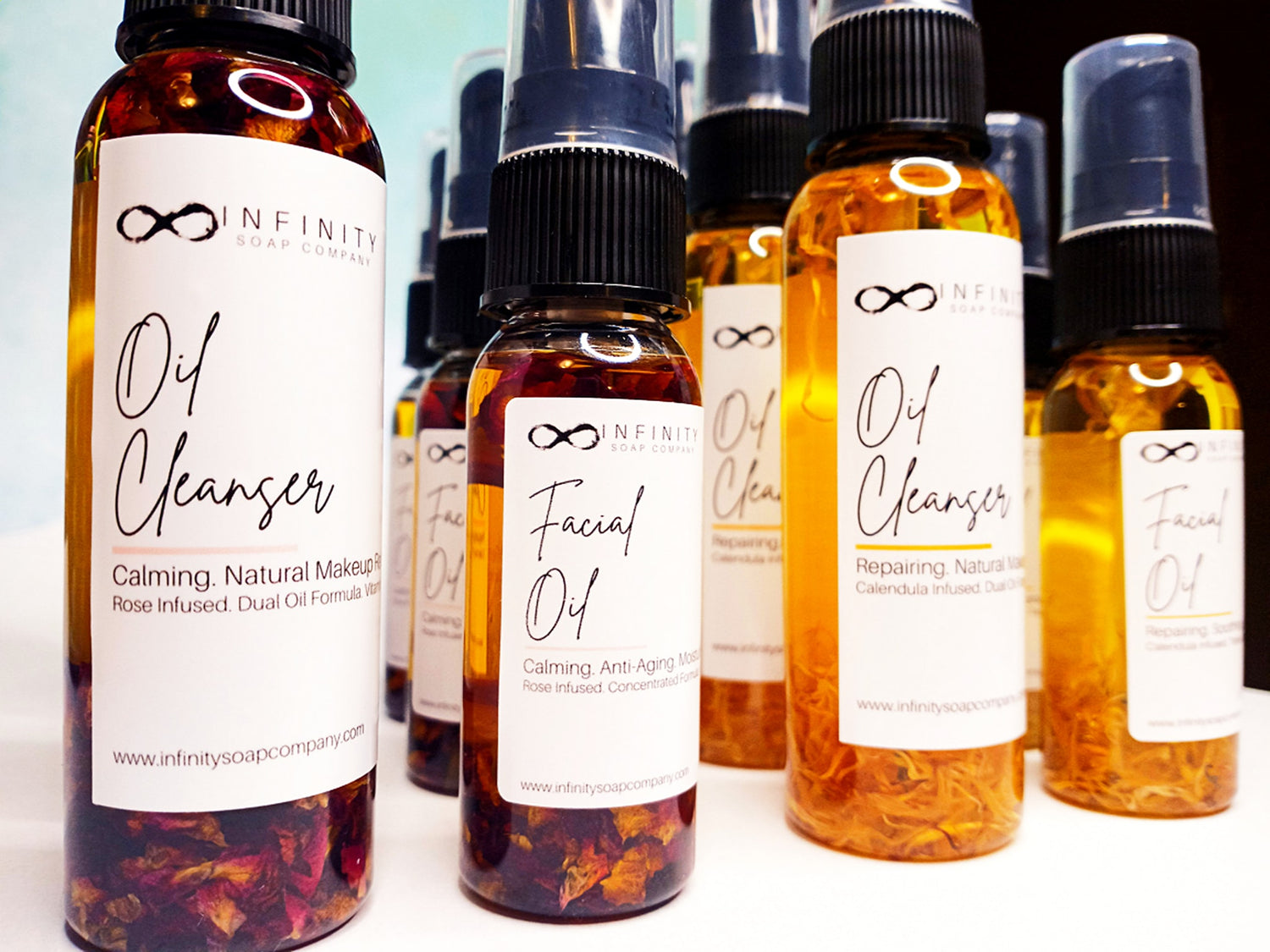 Keep. It. Simple.
Our Botanically infused Facial Oils and Oil Cleansers will have your skin back on track in no time. Customize your face care today!
Get Your Customized Skincare
We #RaiseTheBar on skincare.
Handcrafted with your skin in mind, all of our products meet seriously high standards.
Fair Trade, Organic, Ethical Raw Shea

We partner with ethical, Raw Shea Butter producers who meet strict Fair Trade and Organic standards. They provide a living wage to their employees and education to their children. Good business is the ONLY way we do business.

Shop Body Butters

Organic Oils

All of our oils are certified organic, making the best possible product for you.

Shop Facial Oils

Sensitive Skin Safe

We love to use essential oils, but sometimes we need to use fragrance oils to create fun scents (Maple Pancakes, anyone?)!

All of our fragrance oils are free of phthalates, carcinogens, toxins, and other hazardous chemicals commonly found in fragrance oils. This allows us to skip the irritating part of modern skincare (i.e. irritation to your skin).

Shop Favorites
Find your new favorite scents.
Bars, Body Butters, and Sugar Scrubs -- Oh, my! Check out some of our favorite collections to find your new favorite scents in products that will love your skin!
#RaiseTheBar

Our bars are handcrafted in small batches with the highest quality of skin-loving ingredients like Goat's Milk and Glycerin.

#BodyButter

Your skin naturally produces oil. We naturally produce body butter! Our triple whipped Body Butter is made with hydrating oils like jojoba, coconut, and raw shea to keep your skin soft and silky smooth for up to 24 hours. Bye-bye, dry skin!
#SugaSuga

Exfoliate. Exfoliate. Exfoliate. Sometimes we like an abrasive sugar scrub, but we always love a creamy one better! Our Creamy Sugar Scrubs provide a light lather while exfoliating to lift and separate the daily grime from your gorgeous skin.

#WhipItRealGood

Tired of traditional bar soap? Use our fluffy, foaming Whipped Soap instead! Featuring skin-softening almond oil for a silky smooth, hydrating shave or shower.
Self Care is a necessity.
We really mean it. Whether you're 9 or 92, we have products that are great for the entire family.
Self Care. Self Confidence. Choose Comfort.
Regular price
Sale price
€24,95 EUR
Unit price
per
Regular price
Sale price
€24,95 EUR
Unit price
per
Extra Self-Love + Self-Care

Hair care, face care, skin care, self-care. We do it all. From head-to-toe we provide you with the best small batch skincare to take a #staycation every day.

Beard Care

Self-care isn't just for the smooth skinned! Look your beard-y best with our full line of shaving and beard care.

Bath Bombs

Are you a bath person? Love the bubbles and suds? Yep, we've got you covered. Our Bath Bombs and Cupcake Bath Bombs are perfect for all ages. Relax and unwind with your new favorite scents!
Let customers speak for us